space rock - page 2
1968
Pink Floyd
Their second album A Saucerful of Secrets (29 June 1968) contained further examples: classic anthems like "Let there be more light", "Remember a Day" and the understated "Set the controls…" taught all of us how rock music could be merged with science fiction.
"Let There Be More Light" describes the imagined descent of a fantastical spacecraft at RAF Mildenhall, north-east of Waters' hometown of Cambridge.
The song shares the theme of benevolent extraterrestrial intervention in human affairs with the 1951 film The Day the Earth Stood Still and Arthur C. Clarke's 1953 novel Childhood's End.
Let There Be More Light (1968); Set The Controls For The Heart Of The Sun (1968); Remember a Day (1969) rare:

---

1969
David Bowie
Bowie had released his hit song "Space Oddity" (1969), five days before the famous launch of the Apollo 11 and it reached top 5 in British charts.
Space Oddity Original Video (1969);

1971
Hawkwind
Arguably the most influential space rock group was Hawkwind, who became popular in The '70s and frequently collaborated with the science-fiction writer Michael Moorcock.
Hawkwind's second album "In Search Of Space"(8 October 1971) which can be regarded as the cornerstone album of space rock.
Hawkwind's music contains a lot of different effects on guitar and drums, and lots of synthesizers also be can be considered as the creator of electronic rock music.
album In Search Of Space: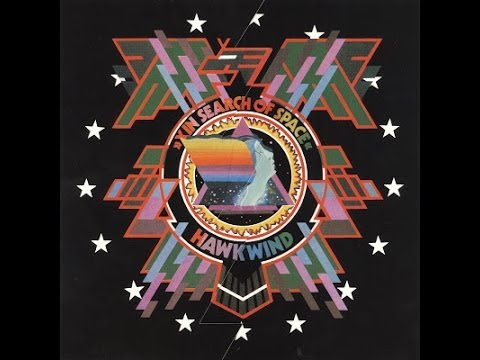 tracklisting:
You Shouldn't Do That (Turner/Brock) 15:42
You Know You're Only Dreaming (Brock) 6:38
Master of the Universe (Turner/Brock) 6:17
We Took the Wrong Step Years Ago (Brock) 4:50
Adjust Me (Hawkwind) 5:45
Children of the Sun (Turner/Anderson; Blue Mountain Music) 3:21
members:
Dave Brock – vocals, electric guitar, 6 and 12 string acoustic guitars, harmonica, audio generator
Nik Turner – alto saxophone, flute, vocals, audio generator
Del Dettmar – synthesizer
Dik Mik (Michael Davies) – audio generator
Dave Anderson – bass guitar, electric and acoustic guitars (original album)
Terry Ollis – drums, percussion (original album)
1996 remastered CD bonus tracks
7. "Seven By Seven" (original single version)
8. "Silver Machine" (original single version; live at the Roundhouse)
9. "Born to Go" (live single version edit; live at the Roundhouse)
Musicians on 1996 Remasters CD bonus tracks
Robert Calvert – vocals
Lemmy (Ian Kilmister) – bass guitar, vocals on "Silver Machine"
Simon King – drums
album In Search of Space / critical reaction
Beat Instrumental assessed the album as "excellent", saying that the "music alternates between spaced out imagery and hard rock" as well as commenting that this is the start of the space trip leading to the "Space Opera".
Lester Bangs in Rolling Stone favorably appraised the album in the context of other musical works concerned with space, going on to describe the music as "monotone jammings with hypnotic rhythms and solos unraveling off into... well, space. The synthesizers warble, woof and scream and gurgle like barfing computers, the drums pound, and the singers chant Unknown Tongue rebops."
In April 2006 it made No. 83 in Classic Rock's "The 100 Greatest British Rock Albums", noting that "drummer Terry Ollis and bassist Dave Anderson could hit an awesome groove, allowing the rest of the band to cut loose on their acid-fuelled sonic adventures without fear of losing themselves or their listeners." In the same issue, Porcupine Tree's Steven Wilson placed it at No. 2 in his top 5, adding "it's an extraordinary whirlpool of cosmic sound, the definitive space-rock statement. I love the album's repetitive, almost pagan feel. It dispensed with the idea of soloists and has a real sense of 'otherness'."
Pink Floyd
In 1971, Pink Floyd began writing the song that would become known as "Echoes" (released 30 October 1971, album Meddle), with an alternative set of lyrics, written about two planets meeting in space. Before the album released, the lyrics were changed to an aquatic theme, because of the band's concern that they were being labeled as a space rock band.
1st Echoes Performance! 1971 – High Quality: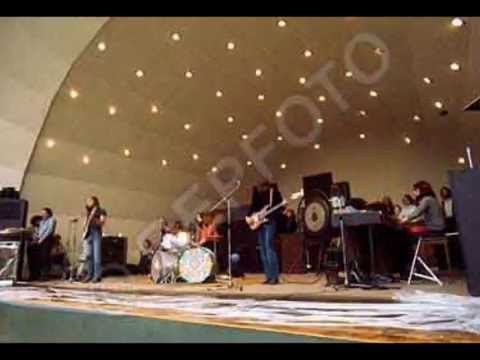 ---