space rock - page 4
1974
Far East Family Band
Far East Family Band
founded in Japan in 1972
genres: psychedelic, space rock, progressive rock
The first album "The Cave Down To Earth" from 1974, Far East Family Band, is mostly recommended, it has a spacey and slight psychedelic sound (like early Pink Floyd) and contains ethnic elements. The album "Parallel World" (1976) was produced by the famous electronic pioneer Klaus Schulze.
Far East Family Band – Saying To The Land (album The Cave Down To Earth); The Cave from the album Nipponjin (1975); Parallel World from album Parallel World (1976):

---
1976
Omega
In Europe, Hungarian band Omega was the biggest space rock band with albums Time Robber (1976), Skyrover (1978), Gammapolis (1979) and the German band Eloy.
Omega albums: Time Robber (1976); Skyrover (1978); Gammapolis (1979):

---
1977
Eloy
genres: progressive rock, symphonic rock, space rock, psychedelic rock
Eloy is a German progressive rock band, whose musical style includes symphonic and space rock, the latter theme being more prevalent on earlier albums. Despite their nationality and time period, the band is not generally considered krautrock because of their sound, which has much more in common with English progressive rock and symphonic rock groups such as Pink Floyd, King Crimson, Yes, and Camel.
Eloy – Ocean – 04 – Atlantis' Agony at June 5th-8498, 13 P.M. Gregorian Earthtime: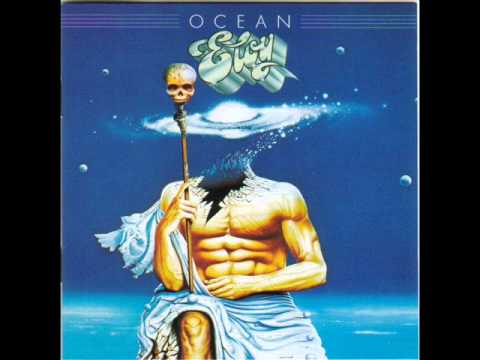 The French band "Rockets" or "Les Rockets" was a group of aliens that had come to Earth to boogie. The group was performing in silver-glitter costumes that were representing the band's alien heritage.
Rockets – On the Road Again (1978, Official Video):

---
space rock /alternative rock
The Alternative Rock contemporary version of space rock originated in the mid-late 1980s when British bands like Spacemen 3 and Loop pioneered the sound.
1989
Loop band
genres: space rock, drone rock, psychedelic rock, noise rock
Loop is an English rock band, formed in 1986 by Robert Hampson in Croydon. The group topped the UK independent charts with their albums Fade Out (1989) and A Gilded Eternity (1990).
Their droning, dissonant "trance-rock" sound drew on the work of artists like the Stooges and Can and helped to resurrect the concept of space rock in the late 1980s.
Loop albums:
Black Sun from the album Fade Out (1989); Afterglow from the album A Gilded Eternity (1990):

---
1992
The droning Space Rock sound was an influence on the Shoegazing scene as well (and bands such as The Verve and Spiritualized blur the lines between the genres somewhat) and gained an underground following in the 1990s.
Spiritualized
Lazer Guided Melodies (March 1992) is the debut studio album by English space rock band Spiritualized.
Lazer Guided Melodies is unique in Jason Pierce's oeuvre as it simultaneously explores motorik, minimalist music, and space rock while subtly using "meticulously detailed, layered instrumentation, the sumptuous deployment of horns and strings" to create cinematic, textured, and deeply narcotic soundscapes.
Spiritualized – Run:

---
Bands such as Radiohead (pre-Kid A, and especially on OK Computer) helped push the genre closer to the mainstream, and more recent (and heavily Radiohead-influenced) bands such as Muse and Coldplay brought a more accessible form of it into the mainstream.
In the 1980's, UK band Mournblade cited in the music press as 'Hawkwind influenced' blended space rock with a harder, more NWOBHM edge and linked into the emerging 'grebo revival' scene of the late 1980's.
---
1990s revival
By the early 1990s, the term "space rock" came to be used when describing numerous American and British alternative rock bands of the time.
Shoegazing, stoner rock/metal, and noise pop genres emerged into the mainstream with the explosion of bands such as
Kyuss, Monster Magnet, Slowdive, The Verve, My Bloody Valentine, Flying Saucer Attack, Loop, Ride, Shiner, The Flaming Lips, Failure, Year of the Rabbit, Cave In, Sun Dial, Hum, Orange Goblin, Spacemen 3, Spiritualized, and Mercury Rev.
The sonic experimentation and emphasis placed on texture by these bands led them to be dubbed "space rock", although most would more readily be categorized in other genres such as shoegazing or stoner metal.
As time changed, psychedelic rock music slowly turned to rock music and electric music with synthesizers and computer-assisted music.
In the 1980's nearly every popular band experimented with electronic music and space theme was going strong with artists like Styx, Europe, and the Flaming Youth.
In the 1990's there was a small revival of the space rock, although it evolved into genres like stoner metal and noise pop.
The common theme was the old psychedelic music, but space rock also gave ideas for some popular progressive heavy rock bands.
Today, however, space rock is linked to a new generation of alternative or indie bands that vary in genres from psychedelic rock, ambient music, and experimental and avant-garde influences.
One of the descendants of space rock is the European "Krautrock", a music genre created in Western Germany in the 1980's.
One of the first new age space rock bands was Britain's Spacemen 3, whose minimalistic music and notorious "taking drugs to make music to take drugs to" principle influenced most of the latter like-minded bands in the 1990's.
A few of the bands involved in Britain's shoegazer movement had ties to space rock, particularly the early work of the Verve.
Also, the most experimental bands like My Bloody Valentine went on to influence the space rock revival of the 1990's.
Most subsequent space rockers took either the minimalist or maximalist approach, occasionally mixing in elements of post-rock as for example "Flying Saucer Attack" and "Godspeed You Black Emperor!" did, or indie pop, like "Quickspace".
One of the late 1990's and the new Millennium's biggest space rock band is Muse. Muse is inspired by the Verve's and Queen's music, as it can easily be recognized, and is a magnificent live performer, whose rock show contains several special effects, such as mind-blowing laser shows.
Other modern space rock bands are for example Soundgarden, Radiohead and 30 seconds to Mars.
Space has given inspiration to hundreds of artists and songwriters throughout history.
Evolving from slow, lingering and hypnotic music of the sixties to heavy progressive sounds of modern space rock, it has always ganged up with psychedelic music.
Space rock has always had its own followers and loyal fans in its history and no doubt so it will in the future.
Space-inspired music takes us behind the stars and to the dark side of the Moon without us never having to leave our seat next to the loudspeakers in our homes. It reminds us that there are lots to research in the depths of the space, and not all necessarily scary and dangerous things.
Just plug your headphones into your surround sound system and find out.