space rock - page 5
---
1993
Flying Saucer Attack
Flying Saucer Attack is an English experimental space rock band formed in Bristol in 1992. The band was lead by songwriter David Pearce, along with Rachel Brook of Movietone, who has been a member for most of the band's lifetime.
Drawing on sources such as krautrock, folk, and dream pop, the group referred to their DIY sound as "rural psychedelia" and were associated with bands of the contemporary post-rock and shoegazing scene. FSA was able to create a small but enthusiastic fanbase and was notable for recording most of their output at home, avoiding recording studios.
Flying Saucer Attack – Self-Titled (Flying Saucer Attack):

tracklisting:
1. My Dreaming Hill 00:00
2. A Silent Tide 6:12
3. Moonset 10:01
4. Make Me Dream 14:27
5. Wish 18:53
6. Popol Vuh 2 24:16
7. The Drowners 29:16
8. Still 33:50
9. Popol Vuh 1 35:41
10. The Season is Ours 46:00
members:
The Third Eye – bongos, clarinet
Flying Saucer Attack – all other instruments
In the mid-1990s, a number of bands built on the space rock styles of Hawkwind and Gong appeared in America.
A Michigan-based space rock scene included Burnt Hair Records, Darla Records, and bands such as Windy & Carl, Mahogany, Sweet Trip, Füxa and Auburn Lull. This was a modern movement of the traditional "space rock" sound and was pinned Detroit Space Rock.
French band Air released albums Moon Safari and Le voyage dans la Lune.
Other bands that have been categorized as space rock include the Flowers of Hell, Comets on Fire, and Flotation Toy Warning.
1994
Ozric Tentacles
Arborescence is an album by British band Ozric Tentacles.
If you're not familiar with the Ozric Tentacles, their output consists almost entirely of long, meandering, generally blissful space rock jams, with techno, dub, ambient, and world music influences mixed in.
Ozric Tentacles – Astro Cortex from the album "Arborescence" (1994):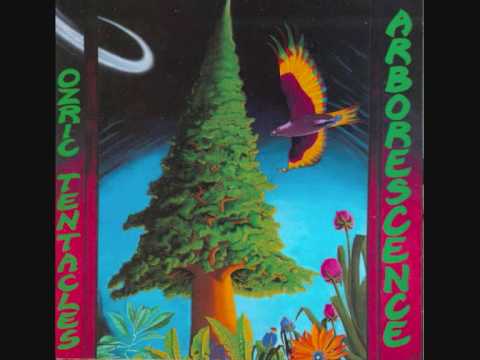 1995
Farflung
Los Angeles based space-rock band, formed in 1992 by Brandon LaBelle, Buck McGibbony, Michael Esther, and Tommy Grenas.
Farflung – 25.000 Feet Per Second (1995):

tracklist:
01.Solar Electric 00:00
02.Open Your Mouth 00:04:09
03.Don'tForget To Breathe 00:07:47
04.25,000 Feet Per Second 00:11:17
05.Greater Waters 00:17:55
06.Landing On Cydonia 00:24:56
07.Hot Fluffy Mind 00:39:27
members:
Andrew Scott
Brandon LaBelle
Lux Vibratus
Michael Esther
Paul Hischier
Richard Skott
Ryan Kirk
Tommy Grenas
Porcupine Tree
The Sky Moves Sideways
progressive rock, space rock
The Sky Moves Sideways became a success among progressive rock fans and Porcupine Tree was hailed as the Pink Floyd of the 1990s.
The Sky Moves Sideways was an expansive soundscape of melody and ambient rock experimentation but proved to be a transitional work with half recorded before the formation of the band and half recorded after. Most of the album was taken up with the 35-minute title track, which at one point Steven had intended to be long enough to occupy the whole album.
tracklisting:
1. "The Sky Moves Sideways Phase 1"
I. "The Colour of Air"
II. "I Find That I'm Not There"
III. "Wire the Drum"
IV. "Spiral Circus" 18:37
2. "Dislocated Day" 5:24
3. "The Moon Touches Your Shoulder" 5:40
4. "Prepare Yourself" 1:54
5. "Moonloop" 17:05
6. "The Sky Moves Sideways Phase 2"
I. "Is...Not"
II. "Off the Map"
members: Porcupine Tree
Steven Wilson: vocals, guitar; keyboards, tapes, programming and mix engineer
Colin Edwin: bass
Richard Barbieri: keyboards; electronics, programming
Chris Maitland: drums
Additional musicians
Ricky Edwards: additional percussion
Theo Travis: flute on "The Sky Moves Sideways Phase 1"
Suzanne J. Barbieri: vocals on "The Sky Moves Sideways Phase 2"
Gavin Harrison – drums on "Dislocated Day" and "Moon Touches Your Shoulder" (2004 expanded remaster only)
1996
Failure
Fantastic Planet is the third studio album by the American alternative rock band Failure, released on August 13, 1996.
Space-rock themes are present in the lyrics, as well as various indirect references to drug addiction, drug-related experiences, and prostitution. The artwork is based on the cover of the L. Ron Hubbard novel Return to Tomorrow.
tracklist:
Saturday Saviour - 0:00
Sergeant Politeness - 4:28
Segue 1 - 8:34
Smoking Umbrellas - 10:30
Pillowhead - 14:29
Blank - 16:38
Segue 2 - 22:19
Dirty Blue Balloons - 23:36
Solaris - 28:00
Pitiful - 31:44
Leo - 36:31
Segue 3 - 39:36
The Nurse Who Loved Me - 41:49
Another Space Song - 46:15
Stuck on You - 51:26
Heliotropic - 55:56
Daylight - 1:02:11
members:
Ken Andrews – vocals, guitar, bass
Greg Edwards – bass, guitar, percussion, piano
Kellii Scott – drums