Judas Priest timeline
After the presentation of the Judas Priest timeline, you can also listen to the playlist of videos from the period 2010 – 2018.
2011
On 27 January 2011, it was announced that Judas Priest was in the process of writing new material for what was thought to be the group's final album due to their previously announced farewell tour entitled the Epitaph World Tour, but the band clarified that the Epitaph tour was "by no means the end of the band."
Speaking at a press conference in Los Angeles on May 26, of the new material, Glenn Tipton said, "It's quite a mixed bag. Really, there's more sentiment on this album. In a way, I suppose, it's also our farewell album, although it might not be our last one. There are some anthems on there, which pay tribute to our fans."
In April, founding member K. K. Downing announced his departure from the band, citing differences with the band and management and a breakdown in their relationship as the reason. Richie Faulkner, a guitarist for Lauren Harris' band, was announced as his replacement.
Single Cuts is a limited edition box set consisting of 20 of the band's singles on 20 CDs including all original b-sides, making a total of 51 tracks.
It was announced on 7 June 2011, for release on 25 August, later delayed to 17 October for "technical reasons", with free magnets being offered as a compensation for the delay to anyone who pre-ordered the box set.
The Chosen Few is a compilation album released on 11 October 2011.
The album contains Judas Priest songs selected by other heavy metal and hard rock musicians.
compilation
Single Cuts




– released: 22 August 2011
compilation

The Chosen Few

– released: 11 October 2011
---
2013
In December 2013, the band released a short Christmas message on their official website, which confirmed that they would be releasing the album sometime in 2014.
Epitaph is a live video released by Judas Priest on DVD and Blu-Ray on 28 May 2013. It was filmed at the Hammersmith Apollo in London on 26 May 2012, which was the last date of the Epitaph World Tour. The show was seen in selected cinemas around the world with special screenings shown at the Clearview Chelsea in New York City and at The Forum in London. It was also broadcast on VH1 Classic in the United States.
video album
Epitaph




– released: 28 May 2013
---
2014
Redeemer of Souls released on 8 July 2014 first album without founding guitarist K. K. Downing, who quit the band in 2011 and was replaced by new guitarist Richie Faulkner.
Guitarist Glenn Tipton gave a statement saying that fans should not expect wild experimentation: "Sometimes in the past, we may have come under fire for being too adventurous musically – so we have listened. From start to finish, Redeemer of Souls is 13 songs of pure classic Priest metal."
The five bonus tracks from the deluxe edition were released as a stand-alone limited-edition 10″ vinyl LP, entitled 5 Souls, for Record Store Day 2014.
single from the album – Redeemer of Souls
"Redeemer of Souls"



– released: 29 April 2014

EP
5 Souls




– released: 28 November 2014
studio album
Redeemer of Souls




– 15 July 2014
Judas Priest – Redeemer of Souls: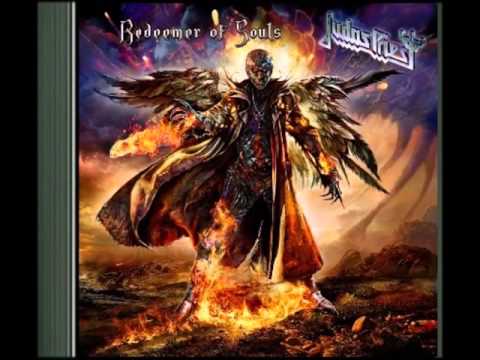 Dragonaut 0:00
Redeemer of Souls 4:25
Halls of Valhalla 8:24
Sword of Damocles 14:28
March of the Damned 19:22
Down in Flames 23:19
Hell & Back 27:15
Cold Blooded 32:00
Metalizer 37:25
Crossfire 42:03
Secrets of the Dead 45:52
Battle Cry 51:33
Beginning of the End 56:52
members:
Rob Halford – vocals
Glenn Tipton – guitar, synthesizer
Ian Hill – bass guitar
Scott Travis – drums
Richie Faulkner – guitar
---
2016
Battle Cry is the sixth live album released on 25 March 2016. It was recorded at the Wacken Open Air festival on 1 August 2015 during their Redeemer of Souls Tour. The album was released as both a stand-alone title and a bundled package containing the DVD version.
live album
Battle Cry




– released: 25 March 2016
Judas Priest – Battle Cry (Live Album) 2016:

Battle Cry 0:00
Dragonaut 0:32
Metal Gods 4:44
Devil's Child 8:58
Victim of Changes 14:16
Halls of Valhalla 23:15
Redeemer of Souls 29:23
Beyond the Realms of Death 33:33
Jawbreaker 40:34
Breaking the Law 44:40
Hell Bent for Leather 47:27
The Hellion 51:53
Electric Eye 52:30
You've Got Another Thing Comin' 57:07
Painkiller 1:08:09
members:
Rob Halford – Vocals
Glenn Tipton – Guitar, Vocals
Richie Faulkner – Guitar, Vocals
Ian Hill – Bass
Scott Travis – Drums
---
2017
While discussing the 30th-anniversary release of Turbo with Ultimate Classic Rock in January 2017, Halford hesitated to say that the band was "still slaving away in the studio. It's sounding great. I can't really say any more than that because it's still very nebulous, but it is sounding incredibly exciting and I'm sure we'll talk about that when the time comes."
The reissue of studio album, Turbo. The album has been remastered and will be released via Sony Music on 3rd February 2017 on 3CD (the original album and 2 bonus discs) as well as 1LP 180g vinyl.
In March, the band confirmed that they had entered the studio to begin recording the new album with support from longtime producer Tom Allom along with Andy Sneap and engineer Mike Exeter, who worked with the band on the previous album. This marks the first time since 1988's Ram It Down that they had worked with Allom.
In an April interview with Planet Rock, Halford said that the band was "coming to some of the final moments" of completion of the new album. He also promised "a very exciting 2018 period" with a world tour taking place next year. In a post on Instagram, Andy Sneap said that the band completed track.
In October, Judas Priest, along with 18 other artists, were announced as nominees for the 2018 Rock and Roll Hall of Fame. They later announced their eighteenth album Firepower, which will be released in early 2018 with a North American tour taking place thereafter, featuring Saxon and Black Star Riders as the support acts.
studio album
Turbo 30




– released: 3 February 2017
---
Judas Priest timeline playlist 2010 – 2018
JUDAS PRIEST guitarists GLENN TIPTON & KK DOWNING interviewed in 2010 | Raw & Uncut
Judas Priest - Live At High Voltage Festival 2011 HD
Judas Priest talk KK Downing's departure at Press Conference
Judas Priest On New Guitarist, Richie Faulkner & Upcoming Projects
Tim Ripper Owens - Latinamerican Tour - Live At The Roxy, Argentina - Heresy Videoclip FULL DVD
Judas Priest - Night Crawler (!!!Best Live Version Ever!!!) [2012.05.05 - Linz Arena, Linz, Austria]
Judas Priest - Living After Midnight (Live from Epitaph)
Judas Priest Talks New Album, State of Metal, "The Simpsons"
JUDAS PRIEST Dragonaut LIVE Barclay Center NEW YORK October 9, 2014
Judas Priest Live - 10/07/2014 - Beyond The Realms of Death - Casino Rama
Rob Halford's speech at Lemmy's funeral [9/1/16]
Rob Halford of Judas Priest his personal life, and challenges for prejudiced thinking
Rob Halford Receives Lemmy Lifetime Achievement Award- Loudwire Awards 2017
2017 Loudwire Music Awards: Rob Halford & Richie Faulkner (Judas Priest) Interview
Rockers Bow to the Metal God, Rob Halford - 2017 Loudwire Music Awards
Judas Priest Q&A with Rob Halford and Richie Faulkner at Rock and Roll Fantasy Camp 2017
Rob Halford & Richie Faulkner- Electric Eye- Rock Fantasy Camp 2017
Judas Priest-Victim of Changes-Opening night of 2014 Tour
[1080p] Judas Priest - Helsinki, Finland, 04.06.2015 (Live) [Full Show / Concert]
Rock Icons - Rob Halford of Judas Priest
Judas priest - Painkiller + Living after midnight (Chile 2015)
Judas Priest: Battle Cry (Trailer)
Judas Priest - Live Oslo (Full Concert) Redeemer of Souls 02.06.2015
Judas Priest - Dragonaut (New Single)
Deleted video
interview Judas Priest - Graspop Metal Meeting 2015
K.K.Downing's Toys in the Attic 2015
Världens Farligaste Möte 2016 – Rob Halford, MR. Breaking the Law Himself
Judas Priest - The Hellion / Electric Eye (Live from Battle Cry)
Judas Priest Q&A - Scott Travis and Ian Hill - Rock and Roll Fantasy Camp
Profile: Judas Priest guitarist K. K. Downing
In This Moment + Rob Halford Perform 'Black Wedding' (Billy Idol) - 2017 Loudwire Music Awards
Judas Priest timeline
---