Nicholas Edward Cave AO (born 22 September 1957) is an Australian musician, singer-songwriter, author, screenwriter, composer, and occasional film actor, best known as the frontman of the rock band Nick Cave and the Bad Seeds. Cave's music is generally characterized by emotional intensity, a wide variety of influences, and lyrical obsessions with death, religion, love, and violence.
Nick Cave books
Cave released his first book, King Ink, in 1988. It is a collection of lyrics and plays, including collaborations with Lydia Lunch.
While he was based in West Berlin, Cave started working on what was to become his debut novel, And the Ass Saw the Angel (1989).
In 1997, he followed up with King Ink II, containing lyrics, poems, and the transcript of a radio essay he did for the BBC in July 1996, "The Flesh Made Word," discussing in biographical format his relationship with Christianity.
Significant crossover is evident between the themes in the book and the lyrics Cave wrote in the late stages of the Birthday Party and the early stage of his solo career. "Swampland", from Mutiny, in particular, uses the same linguistic stylings ('mah' for 'my', for instance) and some of the same themes (the narrator is haunted by the memory of a girl called Lucy, being hunted like an animal, approaching death and execution).
On 21 January 2008, a special edition of Cave's novel And the Ass Saw the Angel was released.
Nick Cave reads from his book And the Ass Saw the Angel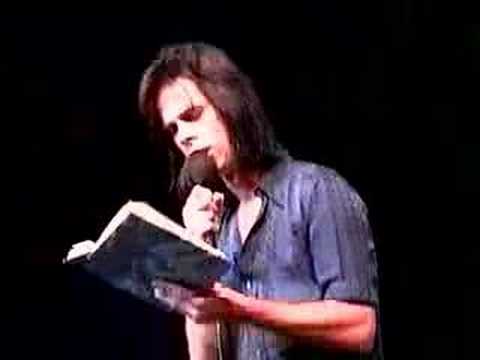 ---
Nick Cave books
Cave's second novel The Death of Bunny Munro was published on 8 September 2009 by Harper Collins books. Telling the story of a sex-addicted salesman, it was also released as a binaural audio-book produced by British Artists Iain Forsyth and Jane Pollard and an iPhone app. The book originally started as a screenplay Cave was going to write for John Hillcoat.
Nick Cave reading The death of Bunny Munro in Ottawa

The Complete Lyrics 1978-2013 is the complete collection of Nick Cave's lyrics spans his entire career, from his writing for The Birthday Party through the highly acclaimed Murder Ballads and The Boatman's Call to recent work with Grinderman and his 2013 album, Push the Sky Away.
The Sick Bag Song began life scribbled on a paper airline sick bags during Cave's 2014 tour. It soon grew into a restless full-length contemporary odyssey.
Spurred by encounters with modern-day North America, beset by longing and exhaustion, Cave teases out the significant moments, the people, the books, and the music that have influenced him. Drawing inspiration from Leonard Cohen, John Berryman, Patti Smith, Sharon Olds, folk ballads and ancient texts, The Sick Bag Song takes the form of a quest, turning over questions of creativity, loss, death, and romance.
Nick Cave – The Sick Bag Song; Nick Cave on Vampires, Dragons, & The Sick Bag Song

---
Nick Cave books