Intro
Primus band genres: alternative rock, alternative metal, experimental rock, funk rock, funk metal, progressive rock, and "thrash-funk".

Primus is an American rock band based in San Francisco, California, currently composed of bassist/vocalist Les Claypool, guitarist Larry "Ler" LaLonde and drummer Tim "Herb" Alexander.
former touring members:
Buckethead – guitar (1999)

Danny Carey – drums (2014)
past members:
Todd Huth – guitar (1984–89)

Vince "Perm" Parker – drums (1984)

Peter Libby – drums (1984–85)

Robbie Bean – drums (1985–86)

Tim "Curveball" Wright – drums (1986–88)

Jay Lane – drums, backing vocals (1988–89, 2010–13)

Bryan "Brain" Mantia – drums (1996–2000)
---
Primus band timeline/ Unlike other bands associated with the 1990s alternative music movement, Primus emerged from a mostly heavy metal background, with Claypool and LaLonde previously a part of the 1980s Californian thrash metal underground.
Les Claypool himself once described their music as "psychedelic polka."
Primus' influences include King Crimson, the Residents, Rush, Pink Floyd and Hillel Slovak-era Red Hot Chili Peppers.
Primus band have been credited as an influence to the nu metal genre, with nu metal bands such as Deftones, Korn, Limp Bizkit, Incubus, Pressure 4-5 and Pleymo all having been inspired by Primus.
The band is also known for their unique live performances that feature extended solos and improvisation. Many of their songs have been upgraded significantly with changed lyrics, added solos, and general alterations in musical composition. Les Claypool often plays the whamola during drum solos.
---
OTHER ABOUT PRIMUS:

"Primitive, animated, dinosaur, Halloween, trailerfunk. I felt Les was a kindred spirit. Someone I could learn from and collaborate with. Quick, schooled, humble, with an amazing musical lexicon and down home as hell, with a bent sense of humor."
Limp Bizkit's frontman Fred Durst, who co-produced the Primus album Antipop, stated in 1999 "I fucking love Primus. Spawned by pure rhythms, Primus has and always will be the most innovative and original source of a groove to influence me in this decade. If you listen you will learn."
Kirk Hammett guitarist of Bay Area thrash metal band Metallica, stated in a 1991 interview that Primus is "unique, they're a square peg in a round hole".
MTV suggests that Primus is "a post-punk Rush spiked with the sensibility and humor of Frank Zappa".
Taken from Guitar Player, August 1991: Primus plays rock the way Dr. Seuss intended. In their crazy backward world, progressive metal beds down with art-funk, instrumental flash tangos cheek-to-cheek with self-mocking humor, and ever-expanding audiences hail their favorite group with the fervent cry "Primus Sucks!"
Primus band timeline
---
1984
Primus band began as Primate in El Sobrante, California, in 1984 with singer and bassist Les Claypool (1984–2000, 2003–present), Todd Huth – guitar (1984–1989), and a LinnDrum drum machine.
Les Claypool
Leslie Edward "Les" Claypool (born September 29, 1963) is an American musician, singer, songwriter, composer, author and actor best known as the bassist and lead vocalist of the band Primus. Claypool's playing style on the electric bass mixes tapping, flamenco-like strumming, whammy bar bends, and slapping.
Claypool has also self-produced and engineered his solo releases from his own studio, "Rancho Relaxo". 2006 saw the release of a full-length feature film Electric Apricot written and directed by Claypool as well as a debut novel South of the Pumphouse.
Todd Huth
Todd Richard Huth (born March 13, 1963. in Pinole, California) is an American guitarist. He is best known as an original member of the band Primus, along with bassist/lyricist Les Claypool (1984 – 1989). Huth reunited with Claypool and Lane in 1994, the trio adopted the title of one of their original demos, Sausage. Following that project, Huth formed a band, Porch. In 2000 Huth again reunited with Les Claypool and toured with Claypool's side-project, Les Claypool's Fearless Flying Frog Brigade.
Huth's guitar style is quite distinctive, combining creative use of dissonance with heavy use of distortion. His style is clearly blues-influenced, incorporating extensive use of bends, and the blues scale.
The duo initially had trouble finding a drummer, until Claypool's friend Vince "Perm" Parker (1984) returned home from a stint in the army, and together the three of them recorded their first demo, financed by Claypool selling his car.
Parker was soon replaced by the band's second drummer, Peter Libby (1984–1985), who was himself replaced by Robbie Bean, before the band eventually settled on Tim "Curveball" Wright in 1986.
---
1985
Robbie Bean – drums (1985–1986)
---
1986
Primate – Sgt. Baker (Live 1986):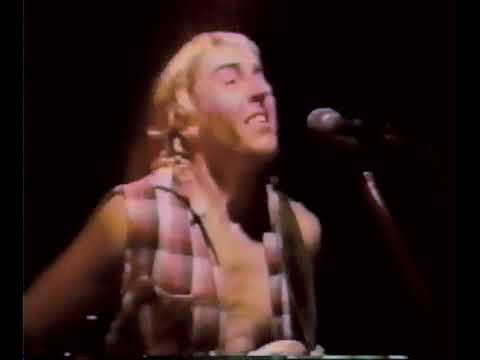 Primate changed their name to Primus after "about a month" when they were approached by a group called the Primates threatening legal action over the similarity of their names.
Tim "Curveball" Wright – drums (1986–1988)
After rising to fame in the local music scene with their brand of funk metal fusion, reaching the point where they were "selling out Berkeley Square".
*The Berkeley Square was a small music club located at 1333 University Avenue in Berkeley, California, operating in the 1970s through 1990s. Nationally known bands played at the club, including Primus, The Ramones, Red Hot Chili Peppers, Dread Zeppelin, Lords of the New Church, Crash Worship, and No Doubt.1"Berkeley Square (Club)." En.Wikipedia.Org, 2018, https://en.wikipedia.org/wiki/Berkeley_Square_(club).
---