alternative rock - page 11
1990s > dark cabaret
dark cabaret:
stylistic origins: cabaret / burlesque / vaudeville / punk rock / post-punk / glam rock / dark wave / gothic rock / alternative rock
cultural origins: United Kingdom, Ireland, Germany, France
Dark cabaret may be a simple description of the theme and mood of a cabaret performance, but more recently has come to define a particular musical genre which draws on the aesthetics of the decadent, risqué German Weimar-era cabarets, burlesque and vaudeville shows with the stylings of post-1970s goth and punk music.
A decadent cocktail of moody theatrical piano and vaudeville tones, the Tiger Lillies were seen as the originators of sound inviting the charm of pre-war Berlin to mix with the ferocious side of punk.
Tiger Lillies – Banging in the Nails (13 Jesuses):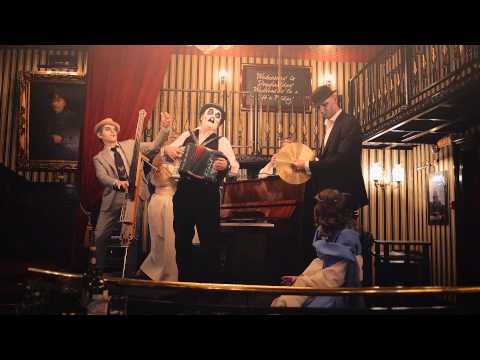 As the Neo-Burlesque movement arrived in the 90s and continue into the 2000s, The Dresden Dolls were seen as pioneers of the sound, as singer Amanda Palmer self-described their sound as "Brechtian punk cabaret".
Others who still carry elements of the dark cabaret sound or where important players include Vermillion Lies, Antony and The Johnsons, IAMX and Katzenjammer Kabarett.
The Dresden Dolls – Missed Me; Katzenjammer Kabarett – Eve at the mansion; The silent – Tragic Tantrum:

---
indie rock > late 1990s > indie folk
indie folk:
stylistic origins: folk / indie rock / alternative rock
cultural origins: late 1990s, United States and early 2000s United Kingdom
Indie folk is a music genre that arose in the 1990s among musicians from indie rock scenes influenced by folk music. Indie folk hybridizes the acoustic guitar melodies of traditional folk music with contemporary instrumentation.
Probably the most well-known indie folk band on the scene is the Decemberists.
Other great indie folk artists include the Fleet Foxes, Cave Singers, Great Lake Swimmers, Blind Pilot, Loch Lomond, Bon Iver, and Or, the Whale.1"What Exactly Is Indie Folk Music?". Thoughtco, 2018, https://www.thoughtco.com/indie-folk-1322459. Accessed 22 June 2018.
The Lumineers – Ho Hey; Fleet Foxes – White Winter Hymnal; The Decemberists – the Hazards of Love:

---
late 1990s > geek rock
geek rock (nerd rock or dork rock):
stylistic origins: alternative rock / indie rock / electronic
cultural origins: late 1990s, geek culture; United States
Geek rock is a musical subgenre derived from alternative rock within the nerd music group. It is a sister-genre to the chiptune-influenced rock subgenre nintendocore and related to other branches of nerd music such as hip hop's nerdcore and contemporary folk's nerd-folk. Geek rock is characterized by the standard instruments of rock music often combined with electronic and unusual instruments; references to geek culture and specialized, yet often mundane, interests; and an element of humor. Specific subgenres of geek rock range from those related to elements of geek culture, such as the Harry Potter-based wizard rock, and those related to elements of rock music, such as the punk rock variant called nerd punk.
Lemon Demon – The Ultimate Showdown of Ultimate Destiny; They Might Be Giants-Ana Ng; Weezer – Buddy Holly:

derivative forms: nerd punk, time lord rock, twi-rock, wizard rock
britpop > late 1990s > post-britpop
post-britpop:
stylistic origins: alternative rock / britpop / indie rock
cultural origins: late 1990s, United Kingdom
Post-britpop is the period following britpop in the late 1990s and early 2000s, when the media were identifying a "new generation" or "second wave" of guitar bands influenced by acts like Pulp, Oasis and Blur, but with less overtly British concerns in their lyrics and making more use of American rock and indie influences, as well as experimental music.
Bands in the post-britpop era that had been established acts, but gained greater prominence after the decline of Britpop, such as Radiohead and The Verve, and new acts such as Travis, Stereophonics, Feeder and particularly Coldplay, achieved much wider international success than most of the Britpop groups that had preceded them, and were some of the most commercially successful acts of the late 1990s and early 2000s.2"Experimental Rock". En.Wikipedia.Org, 2018, https://en.wikipedia.org/wiki/Experimental_rock. Accessed 21 June 2018.
Travis – Why Does It Always Rain On Me?; Coldplay – Yellow; Art Brut – Bad Weekend:

---
indie rock > late 1990s > post-punk revival
post-punk revival (new wave revival, garage rock revival or new rock revolution):
stylistic origins: alternative rock / indie rock / post-punk / new wave / garage rock
cultural origins: late 1990s to early 2000s, United States, Sweden, Australia and UK
Genre of alternative rock and indie rock that developed in the late 20th and early 21st centuries, inspired by the original sounds and aesthetics of garage rock of the 1960s and new wave and post-punk of the 1980s.
Bands that broke through to the mainstream from local scenes across the world in the early 2000s included the Strokes, Interpol, the Hives and the Vines, who were followed to commercial success by many established and new acts.
By the end of the decade, most of the bands had broken up, moved on to other projects or were on hiatus, although some bands returned to recording and touring in the 2010s.
Franz Ferdinand – Take Me Out; Interpol – Evil; The Killers – Mr. Brightside:

---
1990s > alternative country-rock
alternative country-rock
stylistic origins: country / alternative rock / country rock / outlaw country / neotraditional country / progressive country / punk rock
cultural origins: 1990s century
Alternative country-rock or alternative country (sometimes alt-country, insurgent country, or Americana) is a loosely defined subgenre of country music and rock music, which includes acts that differ significantly in style from mainstream country music and pop country music.
Alternative country artists are often influenced by alternative rock. However, the term has been used to describe country music bands and artists that have incorporated influences from alternative rock, indie rock, roots rock, bluegrass, neotraditional country, punk rock, rockabilly, punkabilly, honky-tonk, outlaw country, folk rock, indie folk, folk revival, hard rock, R&B, country rock, heartland rock, and Southern rock.
Uncle Tupelo's 1990 LP No Depression is widely credited as being the first "alt-country" album.
Uncle Tupelo – Graveyard Shift; Son Volt – Windfall; Wilco – Casino Queen:

---
early 2000s > nu gaze
nu gaze:
stylistic origins: shoegazing / ethereal wave
cultural origins: early 2000s, England
Nu gaze refers to a form of alternative rock originating in the 2000s and drawing influence from the shoegazing scene of the late 1980s and early 1990s. A renewed interest in shoegaze occurred in the early 2000s when bands such as Maps, Blonde Redhead, My Vitriol and Silversun Pickups first emerged across both sides of the Atlantic. The origin of the moniker "nu gaze" has been credited to an interview in 2001 with My Vitriol frontman Som Wardner in which he denied his band was shoegaze, instead stating humorously, "I guess you could call us nu-gaze".
According to an article in The Oxford Student, music from the genre features "droning riffs, subdued vocals, and walls of distorted, messy guitar or synth". The style of the music relies on using various effects such as looping, effects pedals, and synthesizers to distort the music. The shoegaze revival draws inspiration heavily from shoegaze but incorporates more modern sounds.
M83 – Don't Save Us From The Flames; Amusement Parks On Fire – Venosa; Blonde Redhead – Equus:

---
alternative dance > mid-2000s > new rave
new rave (nu rave or neu rave):
stylistic origins: dance-punk
cultural origins: mid-2000s, UK
New rave is a genre of music described by The Guardian as "an in-yer-face, DIY disco riposte to the sensitive indie rock touted by bands like Bloc Party." It is most commonly applied to a British-based music scene between 2005 and late 2008 of fast-paced electronica-influenced indie music that celebrated the late 1980s Madchester and rave scenes through the use of neon colours and using the term 'raving' to refer to going nightclubbing.
Klaxons, Trash Fashion, New Young Pony Club, Hadouken!, Late of the Pier and Shitdisco are generally accepted as the main exponents of the genre (although some of them disavow the term entirely).
Klaxons – It's Not Over Yet; Trash Fashion – It's A Rave dave; Hadouken! – That boy, that girl:
---
geek rock > 2008 > time lord rock
time lord rock (Trock):
stylistic origins: alternative rock / wizard rock / geek rock
cultural origins: 2008 Doctor Who fandom, United Kingdom
In the summer of 2008, Alex Day, a fan of Doctor Who, was inspired by the growing phenomenon of wizard rock (formed from Harry Potter fandom) to begin writing songs about Doctor Who, dubbing the resulting genre "Time Lord Rock" (abbreviated to "Trock", after the "Wrock" abbreviation used for wizard rock). Charlie McDonnell, also a fan, did the same, and released an acoustic video performance of "Blink" on YouTube. Combined with the Scottish vloggers Liam Dryden and Chris Beattie, they formed the first Time Lord rock band, Chameleon Circuit.
Time Lord rock performers are usually British or Australian. Chicago-based Time Crash may be the first American band playing in the genre. In 2013 Legs Nose Robinson became a trock-rocking American band picking up the new genre and broad in range. "references to the series, while present, are subtle, with styles ranging from glam-tinged rock to a burlesque reminiscent of Kurt Weill."
Chameleon Circuit – The Doctor Is Dying; Legs Nose Robinson – The Oncoming Storm; Dr. Noise – Onward:

---