rock > mid 1950s > comedy rock
comedy rock:
stylistic origins: rock / comedy
cultural origins: mid-1950s to early 1960s, United Kingdom
Comedy rock is rock music mixed with comedy, often satire and parody, several comedy rock bands have experienced mainstream commercial success.
With over 12 million albums sold, song parodist "Weird Al" Yankovic remains the highest-selling comedy act in history, with his 2014 album Mandatory Fun having debuted at #1 on the Billboard 200.
grammy awards
1985: Eat It (Best Comedy Recording)
1988: Fat (Best Concept Music Video)
2004: Poodle Hat (Best Comedy Album)
2015: Mandatory Fun (Best Comedy Album)
"Weird Al" Yankovic videos – "Eat It"; "Fat"; "Handy" (from album Mandatory Fun):

Acoustic-based duos Tenacious D and Flight of the Conchords both released platinum-selling albums:

Song List: Kielbasa, One Note Song, Tribute, Wonderboy, Hard Fucking, Fuck Her Gently, Explosivo, Dio, Inward Singing, Kyle Quit the Band, The Road, Cock Pushups, Lee, Friendship Test, Friendship, Karate Shnitzel, Karate, Rock Your Socks, Drive-Thru, Double Team, City Hall
Boom – Flight of the Conchords: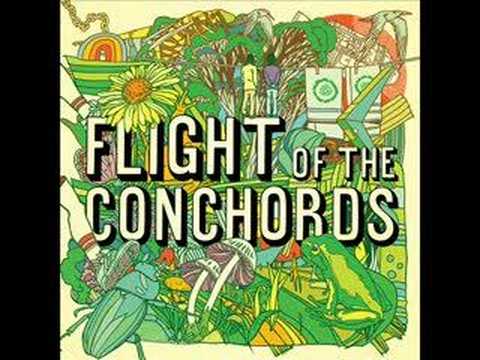 Dan Finnerty with his The Dan Band has made legendary comedy rock appearances in the Todd Phillips films Old School and The Hangover spoofing The Dan Band and "Candy Shop"
Rock has been the target of many spoofs and several spoof bands have gone on to have hit records, for example, Spinal Tap in the U.S., and The Hee Bee Gee Bees and Bad News in the U.K. The band Steel Panther has become a fixture on the Los Angeles Sunset Strip with their parody of 80s glam metal.
Other spoof bands such as Dread Zeppelin, Beatallica, and Those Darn Accordions rely on unusual or intentionally contrasting genre-mixing for comic effect. Comedy rock duo Ninja Sex Party, who has collaborated with Steel Panther on occasion, blend rock and synthpop and have produced songs that parody the dubstep and heavy metal genres. They have enjoyed success from their online popularity.
Punk rock and pop punk have made its contribution to the comedy rock ranks, with such bands as The Aquabats, Blink-182, Bowling For Soup, Patent Pending, Dead Kennedys, The Dead Milkmen, and The Radioactive Chicken Heads.
Heavy metal has also produced many humor-oriented and satirical bands, including Green Jellÿ, Lawnmower Deth, Massacration, M.O.D., Psychostick, and Scatterbrain, while other bands like GWAR and Rosemary's Billygoat utilize outrageous costumes and over-the-top stage shows. The virtual band Dethklok is death metal spoof featured in the Adult Swim animated TV Show Metalocalypse and their album entitled The Dethalbum debuted at No. 21 on the Billboard Top 200 list.1 En.wikipedia.org. (2018). Comedy rock. [online] Available at: https://en.wikipedia.org/wiki/Comedy_rock [Accessed 16 Aug. 2018].
Dethklok-The Dethalbum Deluxe Edition + Bonus CD Full Album:

playlist comedy & parody rock bands:
Beatallica - All You Need is Blood (American English Version)
Dread Zeppelin-Kung Foo Fighting
Radio Ga Ga - Electric Six
Weird Al Yankovic My Own Eyes
"Weird Al" Yankovic - Virus Alert
- LYRICS - The Metal - Tenacious D
DEVILED EGG 😈 Radioactive Chicken Heads music video
If We Were Gay - NSP
Green Jelly/Green Jello - Bear Song
Rage Of Thrones | Music Videos | The Axis Of Awesome
Beer! by PSYCHOSTICK [OFFICIAL VIDEO] "Beer is good and stuff"
Because Boobs + LYRICS [Official] by PSYCHOSTICK
Steel Panther - Party Like Tomorrow Is The End Of The World (Explicit)
Stephen Lynch - Superhero (lyrics)
Ween The Argus Live in Chicago
Sadface 🙁 + LYRICS [Official] by PSYCHOSTICK
Me First And The Gimme Gimmes - End Of The Road (Live in Sydney) | Moshcam
The Sound Of Urchin - Scary Skull Eyes
the dickies dummy up
Vivian Stanshall - Afoju Ti Ole Riran (Dead Eyes)
Moistboyz - I am the Reaper
Andy Dick and the Bitches of the Century - Love Ninja
"Weird" Al Yankovic - Amish Paradise (Official Parody of "Gangsta's Paradise")
"Weird Al" Yankovic - Smells Like Nirvana
Bloodhound Gang - Foxtrot Uniform Charlie Kilo (Official Video)
The Ultimate Showdown of Ultimate Destiny - Lemon Demon
Frank Zappa - Lonely Little Girl/Take Your Clothes Off When You Dance 10 1 75
TENACIOUS D - Kickapoo
Status Quid - Boring Song (1981) The Hee Bee Gee Bees
Frank Zappa Bobby Brown ( Lyrics )
Tenacious D - Rize Of The Fenix (Official Video)
Tenacious D - Tribute (Video)
Don't Let's Start - They Might Be Giants
rock genres      punk subgenres      heavy metal subgenres
I do not own the songs that are on the website. the use of any copyrighted material is used the of "FAIR USE". such material the copyright of the original holder and is used here for the purposes of education, comparison, and criticism only. no infringement of copyright is intended.